Mold Remediation & Air Quality Services
Serving Long Island, NYC, Westchester County & Fairfield County

Save 15% Off Any New Service – Call Today to Schedule a Free Estimate
DID YOU KNOW THAT IT IS ILLEGAL FOR THE SAME COMPANY TO DO BOTH THE MOLD TESTING & REMEDIATION?
You could be suffering from exposure to many types of toxic mold. We can help you keep your family safe and free from the effects of mold with our mold remediation and indoor air purification services.
Any home or business can quickly become infested with mold when water is introduced via sources like plumbing leaks, roof leaks or foundation leaks. At Home Healthy Homes we are specialists in mold removal and indoor air purification.
Our Services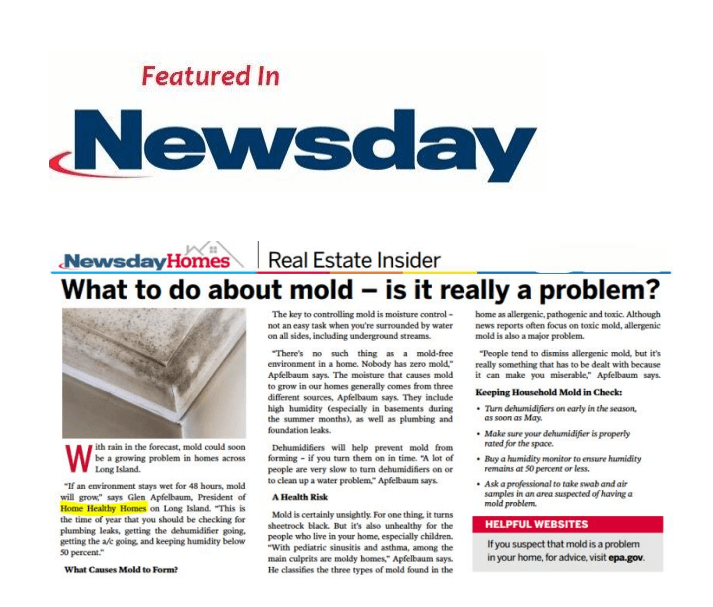 Why Hire a Professional Mold Remediation Company?
Professional mold remediation companies in Long Island are experienced in eliminating the mold and fungal growth as well as removing all contaminated materials. Simply killing the mold is not enough. The mold must be removed so the chemicals and proteins which can cause harmful health consequences in humans and pets may still be present in dead mold.
We have over 40 years of experience in successfully removing mold from homes and improving indoor air quality.
Call today for your free in-home evaluation and estimate! We can tpyically respond to free estimate requests in 90 minutes. We service both Suffolk County and Nassau County in Long Island. We also provide mold remediation services for all of NYC, Westchester County and Fairfield County.
What Sets Us Apart
Free Estimates
In-Home Evaluations
Fast, Affordable, Reliable Service
15% Off Any Service (New Customers)
Super Fast Response Time
40+ Years of Experience
Licensed and Mold Certified
No Mess Guarantee
Lifetime Waterproofing Guarantee
We Do It Right the First Time
Featured on News 12 & Newsday
No Job Too Big or Too Small
Locally Owned & Operated
Most Jobs Completed Same Day