Signs of Mold
How to Know if You Have Mold in Your Home
It Is Possible to Have Mold in Your Home and Not Know It.
Mold can have serious healthy consequences for humans and animals which is why it is important to know what to look for in your home that could indicate mold.
What are the Signs of Mold | What to Look For:
Areas of High Humidity such as Bathrooms & Wet Basements
Water / Pipe Leaks
Flooding
Musty, "Funky" Smell
Mildew
Increased Allergy / Respiratory Disorder Symptoms
Skin Rash
Headaches, Dizziness, Difficulty Concentrating, Decreased Attention Span
Leaky Roof
Use of Humidifiers without Relative Humidity Control
Clothes Dryers
Poor Ventilation
Presence of Wet Materials Indoors
Damp / Wet Basements or Crawl Spaces
Condensation or Rusting
Lots of House Plants
Water Stains (Discoloration of the Walls – yellowish, greenish, brownish or blackish stains indicate a high level of moisture and mold growth)
Cracked, Peeling Paint
Blocked Gutters
Warped Wood
Loosening and Discoloration of Bathroom Wallpaper
Visible Biological / Mold Growth (black, grey-brown, grey-green, white & orange spots, or even pink or purple splotches if growing behind vinyl wallpaper. Stachybotrys is commonly a dark, slimy, greenish-black mold).

How Does Mold Get Into Houses?
Microscopic mold spores exist almost everywhere indoors and outdoors. While there isn't much you can do about mold outdoors, when it comes to mold in your home – you have options. If you have a mold problem in your home, odds are you will smell it first. If you have an earthy or musty odor in your home, there's a good chance you have mold. Occasionally you may see discolored smudges and/or blotches that look like mold and sometimes you'll even see mold.
Mold spores can remain dormant for 50 years or more. They become active when they come into contact with moisture and food. Where there is mold – there is always water. Once mold becomes active it develops into mold colonies which in turn release more spores into the air.
When Should You Consider a Mold Inspection?
If you notice a musty smell in your home but can't find any visual evidence and you or a member of your family has persistent symptoms, you need to hire someone to inspect your home for mold. Or if you need help locating the source of the water that's causing the mold. If you are buying or selling your home you need to have a mold inspection and if you need a formal plan to remove the mold and repair the damage.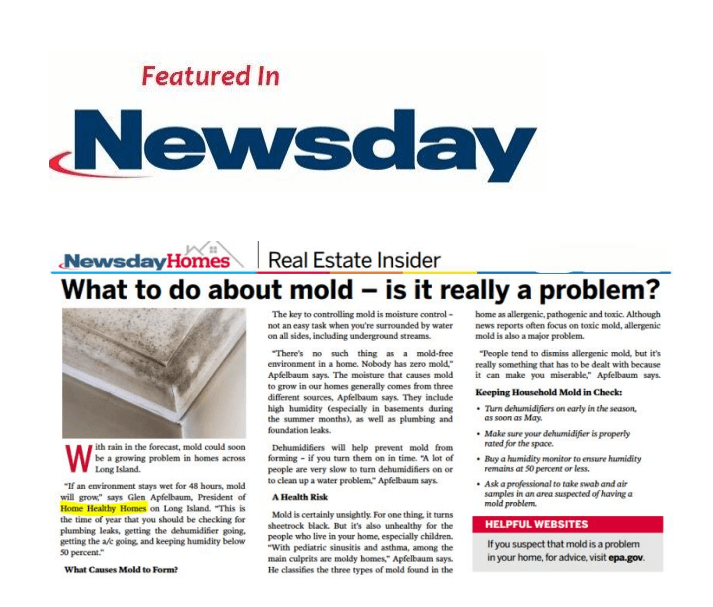 What Sets Us Apart
Free Estimates
In-Home Evaluations
Fast, Affordable, Reliable Service
15% Off Any Service (New Customers)
Super Fast Response Time
40+ Years of Experience
Licensed and Mold Certified
No Mess Guarantee
Lifetime Waterproofing Guarantee
We Do It Right the First Time
Featured on News 12 & Newsday
No Job Too Big or Too Small
Locally Owned & Operated
Most Jobs Completed Same Day